1
« on: June 26, 2021, 12:36:54 AM »
Introduction to Elderscape
Welcome to Elderscape! An Oldschool Runescape Private Server released in 2021! The server is an Economy based server. The development team works everyday on improving the server based on feedback and suggestions from you! Before starting out I highly suggest you check out the rules. You don't need a forum account to get started on Elderscape! You can simply download the client and start playing instantly! Let's get started with the basics.
---
When starting out you'll be greeted by the Elderscape guide and he'll let you choose your preferred gamemode.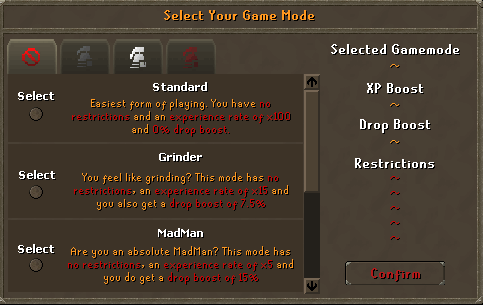 You'll have the follwing gamemodes to choose from!
Standard mode (EXP rate of x30)
Grinder mode (EXP rate of x15, Increased drop boost 7.5%)
Madman mode (Exp rate of x5, Increased drop boost 15%)
The 3 gamemodes mentioned above can be played on each different ironman mode.
Standard Ironman (Single Player Elderscape. You're on your own...)
Ultimate Ironman (In addition to standard ironman, you won't be allowed to bank)
Hardcore Ironman (Standard ironman, but 1 life. Die and it's game over.)
Choose the gamemode that suits your playstyle. You can lower the difficulty when starting out at a higher difficulty, but do keep in mind that this change is
PERMANENT!
Obviously you can't change into a higher difficulty when starting on a lower difficulty...
Do make you choice wisely.
---
After choosing your gamemode, you'll be asked if you want a quick tour on the HUB. Elderscape uses Edgeville as its main HUB so you'll find most of your necessities right here in Edgeville.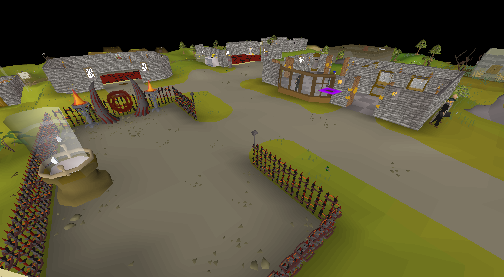 ---
In the east side of Edgeville you can find a bank. At this bank you can well... Bank your items! (Except when playing on Ultimate ironman) If you feel like you don't need a certain item anymore, you can simply come here and bank the item. At this bank also you can find the Elderscape Guide, a Bob Barter (Decanter), The Make-over mage and lastly the Security Advisor. More information on these NPCs later on in the guide.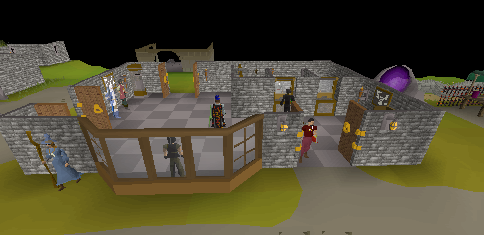 ---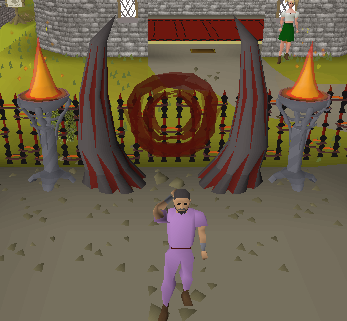 West in Edgeville you can find a giant red portal. This portal is an All-in 1 package. Every teleport you may need can be found here. Ranging from Combat to Dungeons to Skilling to Minigames! You name it and it's there. You can always favorite any teleport you desire and it will pop up in the Favorites tab!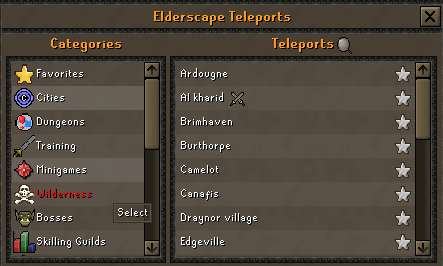 ---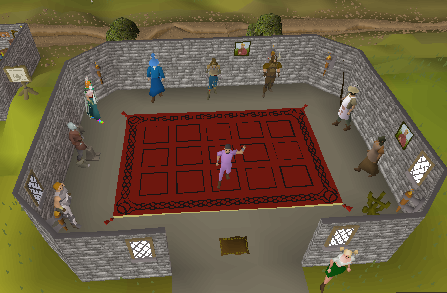 North west of Edgeville, you can find all the shops. Here you can buy all the basic items that you may need for your adventure. The following shops can be found here:
Ironman store
PvM Points store
Achievement store
Mage store
Ranged store
Melee stpre
Fishing store
General store
Blood Money store
---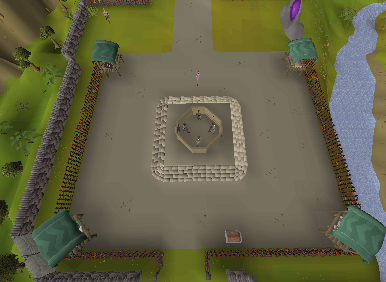 South of Edgeville, You'll be able to find the Elderscape Warehouse, a bank and some thieving stalls. The thieving stalls can be thieved to make some starting cash and train thieving at the same time. The Elderscape Warehouse is similar to the Grand Exchange in Oldschool Runescape. Besides regular trading and bankstanding in the Edgeville bank, you can put up any item you want up for an offer. Any player in Elderscape can look up your personal warehouse and potentially buy off the item from your warehouse. You can also look up any item you wish to buy and find every player that has THAT specific item in their warehouse. Pretty neat huh?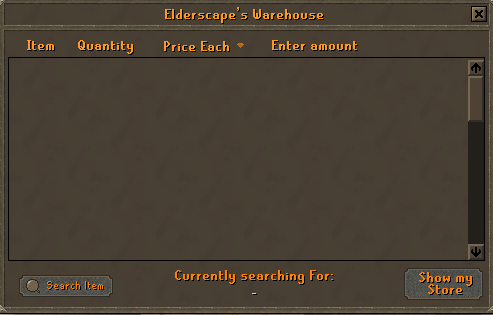 ---
Lastly in the north eastern part of Edgeville, you'll be able to find the slayer masters, a regular altar, a spellbook swap altar, max hit dummies, an ornate rejuvenation pool and a deadman supply chest. Over here you get a slayer task, recharge your prayer and health, safely train prayer using bones on the altar, test your max hit using your own gear setup and finally get some goodies from the deadman supply chest if you have the proper key to open it.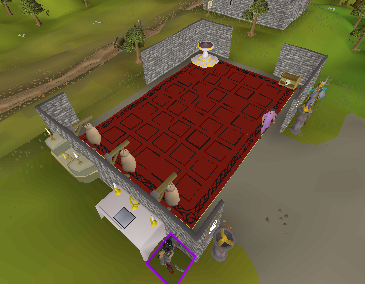 ---